14/2/2020
The European Network of Historic Gardens holds its General Assembly
The European Network of Historic Gardens celebrates its next General Assembly on 12th and 13th March 2020. It will take place in the Heritage Gardens of the Alhambra and Generalife, located in Granada (Spain).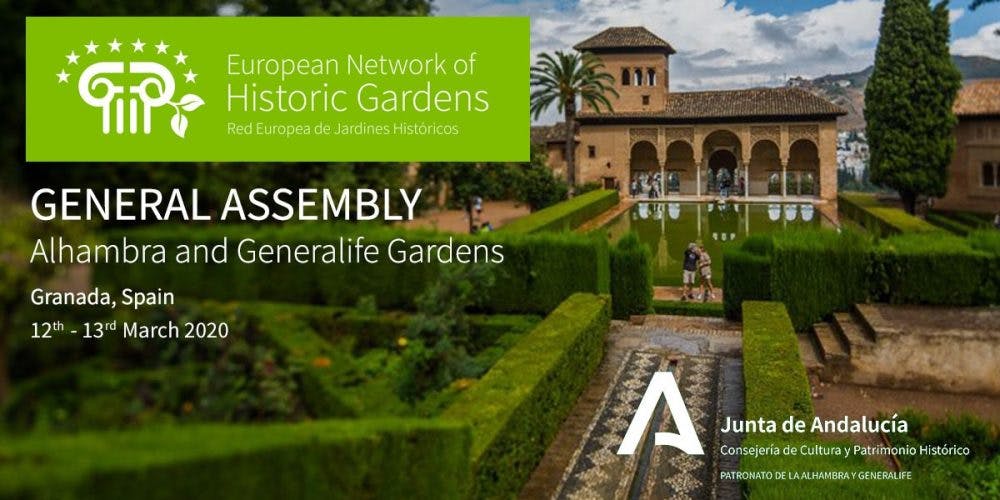 Institutions from Portugal, Spain, Italy, Poland and Georgia will be present at this general meeting, in which, among others, the activities planned for this year 2020 will be presented, as well as the the progress in the organization of the IV European Forum of Historic Gardens in Georgia next September.
Candidacy for the Mention of Cultural Routes of the Council of Europe
Launched by the Council of Europe in 1987, the Cultural Routes demonstrate, by means of a journey through space and time, how the heritage of the different countries and cultures of Europe contributes to a shared and living cultural heritage.
The details of the defense of the ENHG candidacy for the Mention of Cultural Itinerary of the Council of Europe will be finalized, which would contribute to the consolidation of our network as a reference for European culture and tourism.
The presentation of the Cultural Route 'The legacy of Al-Andalus' will open this meeting, which will be completed with a guided visit to the Alhambra Gardens and dinner at Carmen de la Victoria, located in the historic gardens of the University of Granada.
The Andalusi Legacy was certified as a 'Cultural Route of the Council of Europe' in 1997. In the 8th century, the Iberian Peninsula saw the arrival of Arabs and Berbers who mixed with the Roman-Visigoth inhabitants, engendering what was known as Al-Andalus. This successful medieval Muslim civilisation extended, at its peak, to most of what is today Spain and Portugal, until its downfall in the late 15th century.
An initiative to promote our cultural heritage
The European Network of Historic Gardens was born in 2016 under the initiative of the municipalities of Lloret de Mar, Aranjuez and the University of Barcelona with the aim of promoting European historic gardens, promoting relations with the Council of Europe and European institutions, and facilitating the exchange of good practices in the valuation of Cultural Heritage.